Integrate your vendor network and improve your service to customers
Vendors are at the forefront of customer interaction—from marketing to sales and service.
With a central vendor portal, you can better integrate that network into your own organization and processes. The result: higher quality of service and a more consistent customer experience.
All stores on one platform
Manage multiple brand stores and a diverse range of vendor stores on a single Intershop commerce platform. Our numerous configuration and management options let you manage your data and processes more efficiently. You can also use intelligent tools to share centrally managed product information and other content with all your local stores.
Add new vendors quickly and easily
Set up new vendor stores simply and efficiently using back-end templates in the Intershop commerce platform. All roll-out processes run fully automatically in the background.
View and test before going live
Use the preview functions to check the look and feel of new vendor stores. You can also test new product content and promotional campaigns before they go live.
Empower your vendors
Let vendors configure their own online stores with our special onboarding tool. This setup assistant covers everything that is required for a smooth and successful roll-out.
Let vendors manage and customize their stores
Vendors can modify their online stores retrospectively within the constraints of the defined corporate design. They can swap out logos, images, colors, etc. and add or expand their product ranges, e.g., with country-specific products and offers. Using the vendor back office, they can easily manage their own online store, e.g., check the status of an order, alter content and pricing, select products, or define payment and delivery options.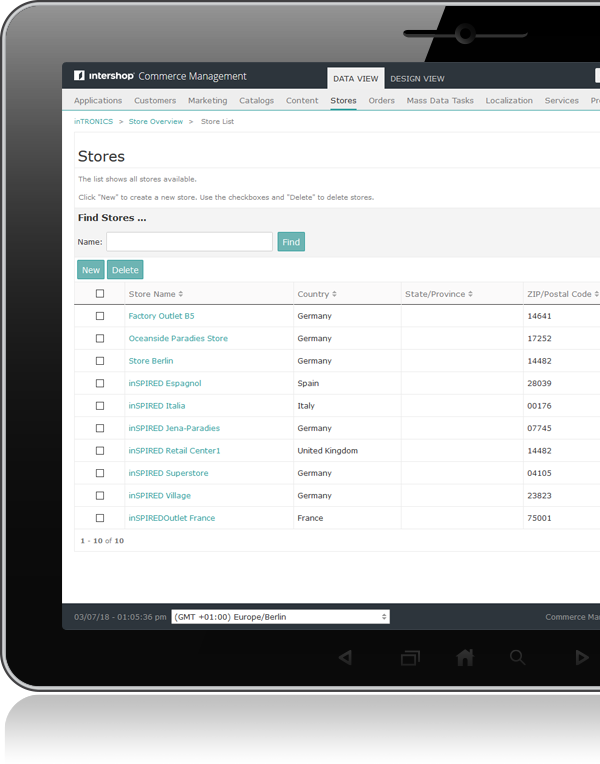 We've digitalized our after-sales processes and sell our genuine parts, accessories, and lifestyle products online. Customers can choose whether to have their order shipped from one of our participating locations or vendors or to pick up the order themselves. We are gradually integrating more and more vendors into our online store and setting up their own stores for them. In the process, we're further expanding our network for customers and opening up new sales channels for our vendors.
Head of after-sales at a car manufacturer
How Intershop can help you create your own vendor portal
1
Strategic and Digital Consulting
Get the fastest possible ROI as well as long-term planning security.
2
Technology
An industry-leading commerce solution at the heart of your digitalization process.
3
Professional Services
Reduce your workload and create time for what really matters: your core business.